WELCOME TO TANGO LUXE VILLA, KOH SAMUI, THAILAND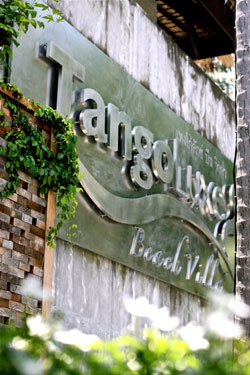 Tango Luxe is a collection of contrasts which combine to create an enigmatic and sophisticated resort atmosphere. You'll find an eclectic mix of style influences, incorporating contemporary and traditional design elements to showcase the versatility of natural materials.
From the moment you arrive, the attention to detail and contrasting styles are instantly evident in the spectacular lobby area, which looks directly through to the pool, pool bar and beach.
Contemporary wooden tables sit comfortably beneath traditionally styled chandeliers and everywhere you look there's a view, ornament or furniture piece to focus your interest. The relaxing ambience starts here, and you really get the feeling that this would be the perfect location to simply sit and enjoy the surroundings.
Cielo spa above the lobby offers an opportunity to enhance your relaxation even further with a skilled massage, jacuzzi or steam room.
Stepping into the lobby bar and restaurant is like entering another world. Qi Oriental cuisine lobby bar signifies the source of life's energy in Chinese, and this area is heavily influenced by the Chinese culture. Exotic paintings adorn the bar walls and contrast with the white marble counter, whilst intricately carved wooden doors fold open to bring the outside in.
A plant-lined wooden walkway leads through the private luxury villas and directly onto the pool terrace. The wide pool sits above the beach and is surrounded by decking which literally wraps around the palm trees lining the front of the property.
The poolside Beach bar and Bistro, Sea La Vie, provides you with the picture-perfect image of sipping cocktails and enjoying the sensational sunset. From this position it would be easy to imagine that you are the only people on the whole island.